Sea Kayak Kissamos
About us
We are a new tourism agency starting in summer 2023 and we offer organized and guided kayak expeditions mainly in Kissamos bay area and Falasarna area (alternatively). We provide kayak tours that's for everyone with or without any kayak experience and we promise we will do our best to give you a nice holiday adventure!
your guide
Hi, I'm Giannis!
Your guide and instructor, also founder and organizer of Sea Kayak Kissamos. I was born and raised in Kissamos.
I started the sport of kayaking with my wife several years ago and we got in love with the feeling of a kayak expedition adventure, so as up to summer 2023 we decided to organize sea kayak tours, with the hope of sharing the same feelings with people like us, that like to challenge themselves a bit and enjoy the nature in an amazing way, like the one the kayak experience provides!
So, if you have a bit adventurous spirit like we do, and you like to explore but not just from behind a car window, we are waiting for you to try the sea kayak with us! We will be glad to see you!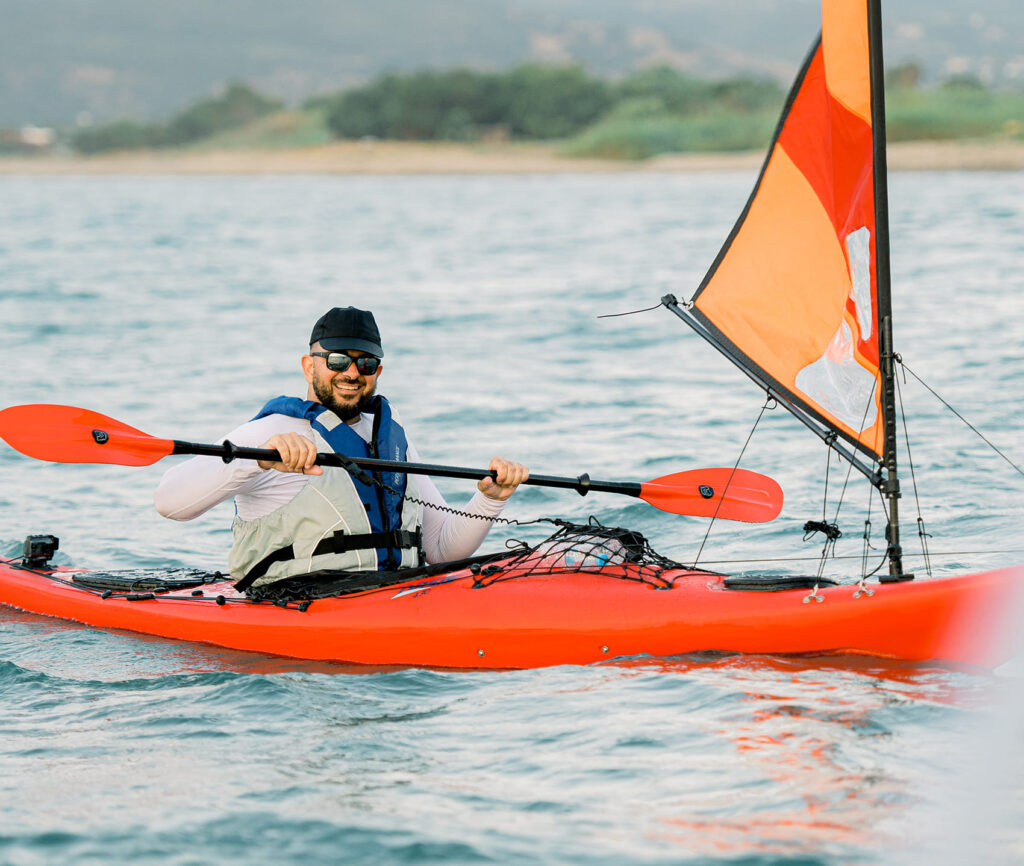 Expedition kayaks are specially chosen for their stability and easiness to handle and also for their efficiency on water, so everybody can participate and enjoy our sea kayak tours! But also, for experienced kayakers, our kayaks and all our equipment can provide a true sea kayaking experience!
More detailed, our kayaks are sit-inside kayaks produced in Italy.
We provide 2 kayak type options:
An option for the individual participants of the group. Since one person is handling all the paddling and all the controls (foot steering and sail adjustments), is a bit more challenging than our tandem kayaks.  
*Single kayaks need a kayaker with a fitness level a bit higher than the basic in order to have a comfortable and enjoyable experience!
Are from nature more stable (almost impossible to capsize), easier to move and faster since 2 pairs of paddles are giving the propulsion. Double kayaks can fit a higher person inside (>1.90cm). So, usually couples or friends that have no experience in kayaking will be paddling with us most likely in a double kayak.
Since our kayaks are sit-inside type, they are fast and easier to paddle that sit-on top type. So, we can cover a bigger distance with ease and enjoy the true kayak experience.
But since they have a cockpit that kayaker must fit to sit inside, the size of the participant can be a factor that won't allow someone to join us.
For further details, check the participant requirements!
All our kayaks are equipped with a rudder (foot steering system) for maintaining and changing the course of the kayak easy and simple.